Breast Self-Examination
(BSE)

Important Components


---

BSE Regularity

Three Visual Steps

Three Tactile Steps
Self-Exam Regularity

Monthly BSE


---

Perform 2-3 days after menstrual period.



If post-menopausal, choose a particular day.
Step #1: Arms at Side

Check size & shape.
Check position of the nipple.
Check for unusual signs:

Discharge
Puckering
Scaling
Discoloration
Swelling

Step #2:
Hands on Head

Press forward to tighten chest muscles.
Palpate for change in shape or contour.

Step #3:
Hands on Hips

Bend slightly forward.
Bring shoulders and elbows forward
Tighten chest muscles.
Palpate for change in shape or contour.
---
Basic Hand Technique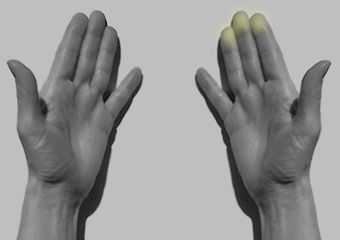 Use the pads of the three middle fingers.
Use three depths of pressure.
Move in small circles lasting about a second each.
Advance about 1 finger width each pass.
Tactile Steps

Step 1:
Examine Nipple

Gently squeeze each nipple
Check for discharge of any kind
Check for nipple inversion.
Compare nipples.



Note: Consult with physician if any unusual findings are present.

Step 2:
Standing Palpation

Raise Arm
Carefully explore entire breast.
Include the underarm area and lymph nodes.
Check for unusual lumps or tenderness.

Note: Best done in shower as hand
easily glides over soapy skin.
Step 3: Supine Breast Palpation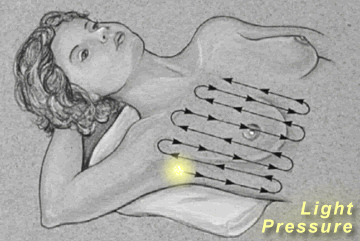 Begin at the point shown, under the arm.
Work in parallel rows, towards the breastbone.
Palpate 1-2 strips under the collarbone. (not shown)
Note: Best done using lotion or oil
so hand easily glides over skin.
Normal Variants

Be familiar with the shape and texture of your breast over a normal cycle.
It is not unusual to have one breast larger than the other.
Some breasts are normally dense, fibrous or lumpy.
Implants should not prevent you from performing this examination.
Cancerous lumps feel different than normal when palpated or lightly tapped with the fingers.
MSNBC - Komen Self Exam Video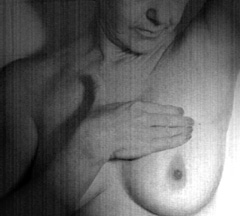 Click here to see an interactive video of breast self-exam.
Breast self-examination or breast self exam
Key Points to Remember

Any difference from normal is a reason to call your doctor without delay.

Breast cancer risk increases with age. A mammogram, breast self exam, and clinical breast examination are recommended:

a clinical breast exam should be performed annually beginning at age 20,
a baseline mammogram should be obtained by the age of 40,
a breasts self exam should be performed monthly beginning at age 20.

Women in higher risk groups should ask their physician for personal recommendations based upon their individual risk.


For further guidelines see:
ination is abbreviated BSE and is a very important monthly check to perform to enable the early detection of breast cancer in its various forms.
This content was authored by Marilyn Fulper of the University of Arkansas for Medical Sciences and by L. Van Warren of Warren Design Vision. It is our deepest hope that this content will help in the fight against breast cancer and that by using it someone will detect their cancer early so that it can be treated successfully.