<![if !vml]>

<![endif]> Today's strange idea is to take a 96 well biochemistry array and fill each well with its own drop of quantum fluid. When illuminated the quantum fluid in the well would undergo a superimposable and  reversible (like a CD-RW) state change. Superimposable means that the state changes accumulate without interfering with the previous state change. Each well would be the target of a set of lasers, in read/write pairs.  The wells, which would correspond to qubits, would be illuminated for reads and writes by a small mirror vibrating at high frequency (like the TI DLP micro mirror arrays used in digital projectors for example). The DLP mirrors would be controlled by a conventional digital signal processor (DSP) for setting up the problem. Quantum computers hold great promise for combinatorial problems of economic consequence that are currently considered incomputable, like Traveling Salesman Problem, or factoring a 1000 digit number. The latter would take longer than the estimated age of the universe. Very useful for code breaking those bad secret agent messages before its too late, and also for bringing security as we know it to a standstill. But hey, with progress comes problems.
The description above is fast and loose, but it does suggest some interesting questions. What fluid can absorb a state change in a reversible way? How many bits of change could be reversibly absorbed by a given fluid. If the fluid consisted of vibrating strings in suspension, how many modes of vibration could be supported reversibly? Would refresh be necessary? Dyes like to preferentially absorb laser light. Could a transformed dye be pumped to another well to continue the computation?
Vibrating strings in suspension is exactly what molecular bonds are. Would this require low temperature, so low that the vibrational modes are not deconstructed by heat and collision? Could long polymers of DNA, or similar plastics, be used that can be clipped to exact length using restriction enzymes? Can you sustain a mode of vibration on a polymer string? How about multiple modes with multiple notes? How long will a given polymer ring a given note? Can you anchor one or both ends of a polymer string using the famous biotin strepavidin bond? What about using quantum dots which are used to label DNA. Suspend the dot using double strands of DNA . Or we could borrow the hemoglobin/chlorophyll trick where a porphyrin ring holds the jewel of an iron or magnesium or copper or zinc to get its electrons rung once in a while. Whatever we do, we must preserve the coherence principle that allows the accumulation of multiple states.

image credit
Would qubit computation take place more reliably in the solid state? Materials that can absorb photons or emit photons corresponding to an electronic or nuclear spin change are candidates. Flipping protons takes place at RF frequencies. In the optical realm each well would represents a hologramic bucket of data, as accumulated states. If you break off once piece of a hologram, you are still left with the whole picture, with the loss being in signal to noise. What does SNR mean in that case?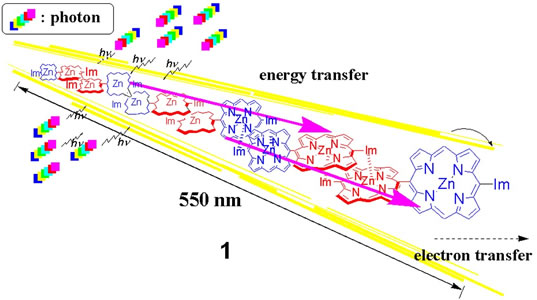 image credit
Is the well half empty or half full? In a proper thinking process, and a quantum computer, it is in both states, simultaneously.
I wonder if cells use that. I think they do.